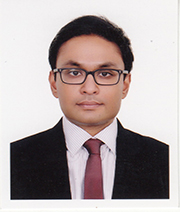 Mr. Shajir Ahmed, Graduate from Kings College, London with Bachelor Degree in Business Management & Bilingual Diploma of the IBO from United World College of South East Asia, Singapore.
He joined the family business in the year of 2010 as Deputy Managing Director. & in the year of 2022 promoted him as Managing Director of Super Group of Companies and Director of Elite Paint Group of Companies Ltd.
He is new elected Director of A B Bank Limited and Chittagong Metropolitan Chamber of Commerce & Industry (CMCC&I)
He has more than 8 years' experience in petroleum processing, producing, carrying and marketing and in chemical processing such as Polyester resin manufacturing, Polymer manufacturing (Thermoplastic & Emulsion) and Plasticizer manufacturing.